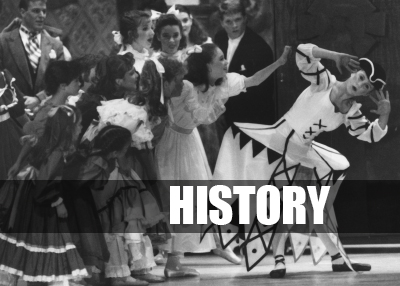 Ballet San Angelo, Inc. formerly known as San Angelo Civic Ballet (SACB) was chartered August 16, 1983, as a 501(c)(3) not-for-profit organization and co-founded by Ann Southall, Debbie Carter, Teresa Branon, Mary Lynn Kusior and Gene Smith. The organization was originally created with the purpose of producing "The Nutcracker" in San Angelo, Texas. Over the 35 years since, the SACB Board of Directors has expanded upon this foundation to make SACB the focal point of exceptional dance education and performance in West Texas.
In 2005, Meghann Bridgeman began a ten-year tenure as Artistic Director, implementing a classically based curriculum, expanding and improving classes from creative movement to pre-professional levels of ballet and pointe. Enrollment quadrupled and advanced level dancers are now regularly accepted into nationally recognized programs. SACB also greatly expanded the performance repertoire beyond the annual production of "The Nutcracker" during this time to bring five contemporary, youth and classical ballet performances to San Angelo each season.
To support this rapid growth, SACB filled over twenty new administrative, executive and faculty positions. The Executive Director position was added in 2010 and is filled by Tanya Pfluger, who has played a vital role in the administrative development and donor relations of the organization.
The ballet values scholarship opportunities, outreach programs, and tuition assistance. In 2010, the Susan Templeton Kinney Scholarship was established to assist upper-level students with the costs of summer intensives. In 2011, SACB implemented a TEKS aligned dance program in three Title 1 schools. We have recently increased tuition assistance, successfully eliminating all financial barriers, making SACB the most accessible and community-oriented dance education destination in West Texas. In partnership with our school district, a new program for pre-professionals was established in 2013, providing these elite students with world-class dance training while allowing them to stay in their home town and public school.
In 2015, SACB asked internationally renowned, award-winning choreographer Gina Patterson to become the Artist Director to help expand SACB's reach in the broader Ballet world. The San Angelo Performing Arts Coalition completed fundraising and began construction on a state of the art performing arts facility in 2014. The Ballet played a founding role in this umbrella arts organization, and moved into the Performing Arts space in August of 2016, allowing us to expand the number and quality of our educational offerings and performances to better serve our art form, our city, and our region of West Texas.
As of 2017, the Ballet has changed its name from San Angelo Civic Ballet to Ballet San Angelo. This change reflects the Ballet's connection to the past and the community while it looks forward towards a bright future!